Our vans are suited for any type of trip around Europe with a occupancy limit of 2 persons.
Campervan equipment overview:
300 Watt solar roof panels to that charge two 100 Ah / 12 Volts habitation batteries. Charging of batteries is only needed in the winter with 230 Volt EU external connection (cables provided) with earth leakage circuit breaker for 230 V & 12 V. Battery level indicators are on the kitchen cabinet.
The 100 liter indoor fresh water tank provides enough water for two persons for a week. The 45 liter underfloor waste water tank can be easily discharged. Electronic level indicators on the kitchen cabinet.
4 kW warm air heating incl. 10 l warm water boiler with indoor sensor and control unit on the kitchen cabinet. The 60 liter LPG tank is fixed mounted underfloor and can be filled at fuel stations that provide LPG. The diesel version will use the central diesel fuel tank for heating and cooking.
Thule awning operated with a crank. Provides shade on sunny days and serves as shelter on rainy days.
Mercedes Sprinter features:
Build year 2009
4 cilinder, 2,1 liter, 185 horsepower diesel engine. Euro class 4.
Empty weight 2405 kgs
Max. weight 3500 kgs
Automatic gearbox.
Side indicators in exterior mirrors
Warm air auxiliary heating, electric
Trailer hitch for max. 2800 kgs
ESP , ABS, ASR,
AssistPower steering
Central locking with remote control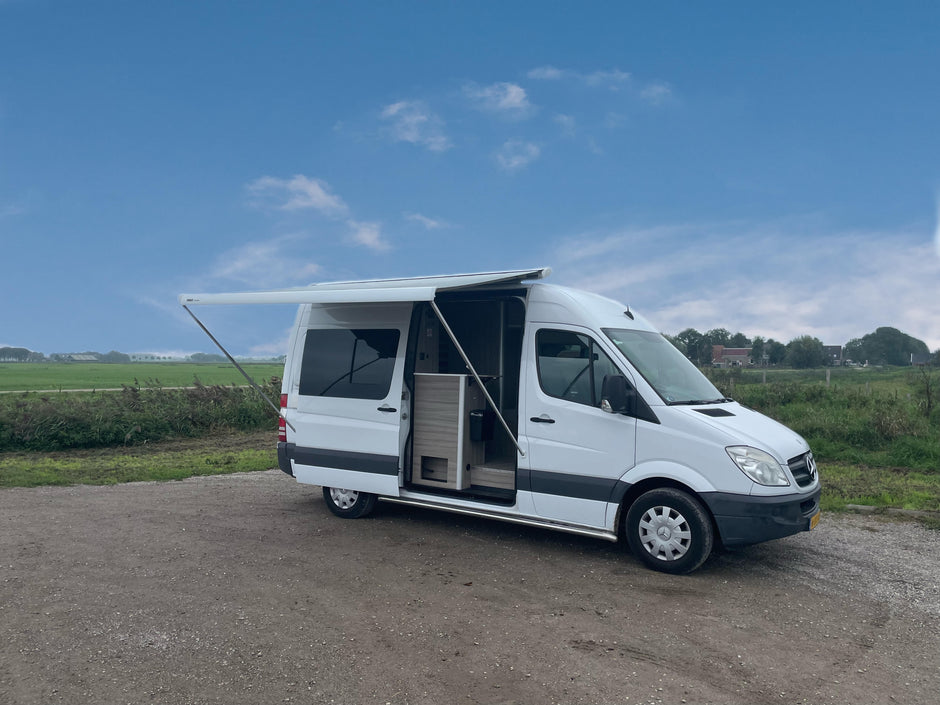 Equipment by area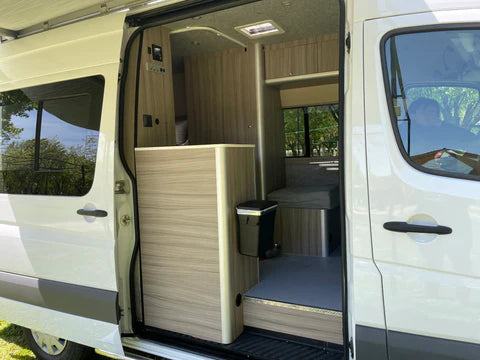 The smart kitchen is positioned to enjoy the view while cooking. All electronic readers and controls are positioned on the kitchen cabinet as well as additional connections for 12 Volts and 230 Volts for kitchen appliances. A wide entrance makes it easy to enter the living area while the kitchen is being used.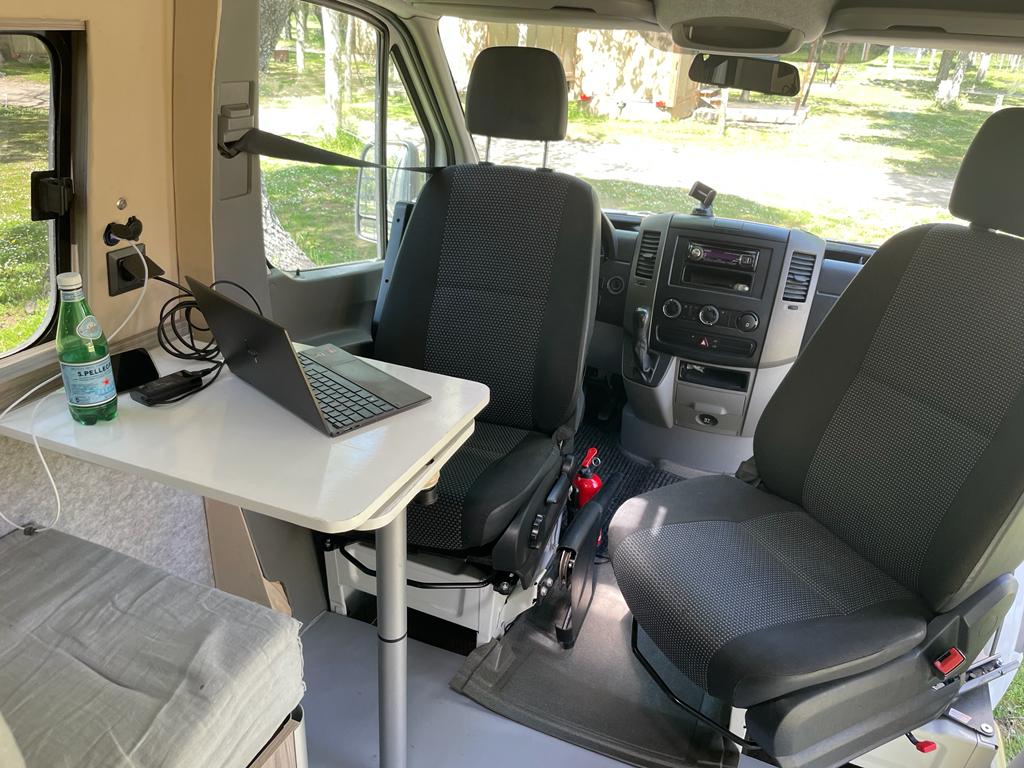 The living area includes turnable cabin seats with armrest and seat bench, attachable table with slide-out extension. Head cabinets provide plenty of storage space in the living room. The mosquitonet has magnet closure. LED lighting in living area, above table, kitchen and cockpit seats. The dark tinted windows provide privacy and insulated blackout window blinds protect against summer heat or winter cold and are easily attached with magnets and press buttons. The skylights ensure proper ventilation. Optimal heat and noise insulation in the wall area and roof area ensure comfortable living and driving.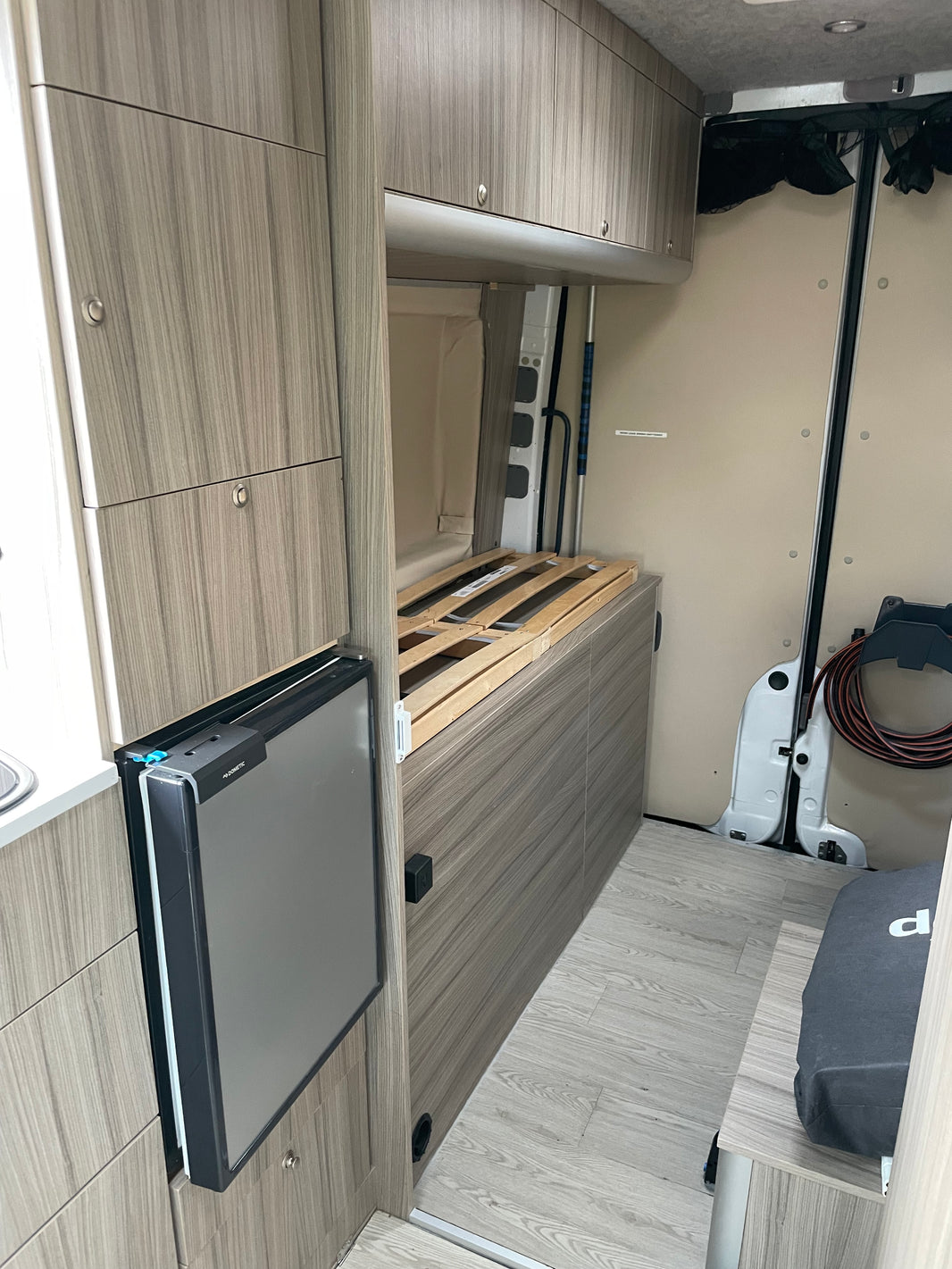 The bed can be stowed away to create a storage room for transport of large large items.
A comfortable bathroom with indoor shower that appears by opening a panel in the cabin floor.
The luxurious dry compost toilet uses no chemicals and does not waste any water. Waste can be disposed of in any bio-waste container. A separate liquid container can be emptied at the back of the campervan.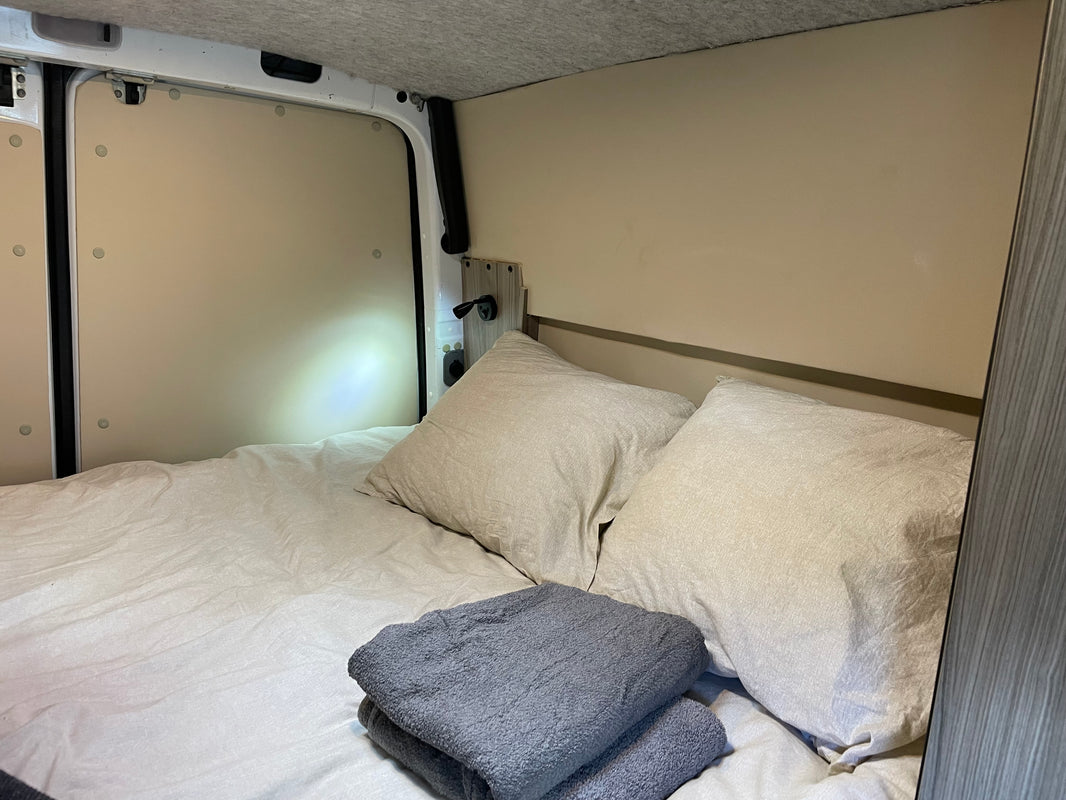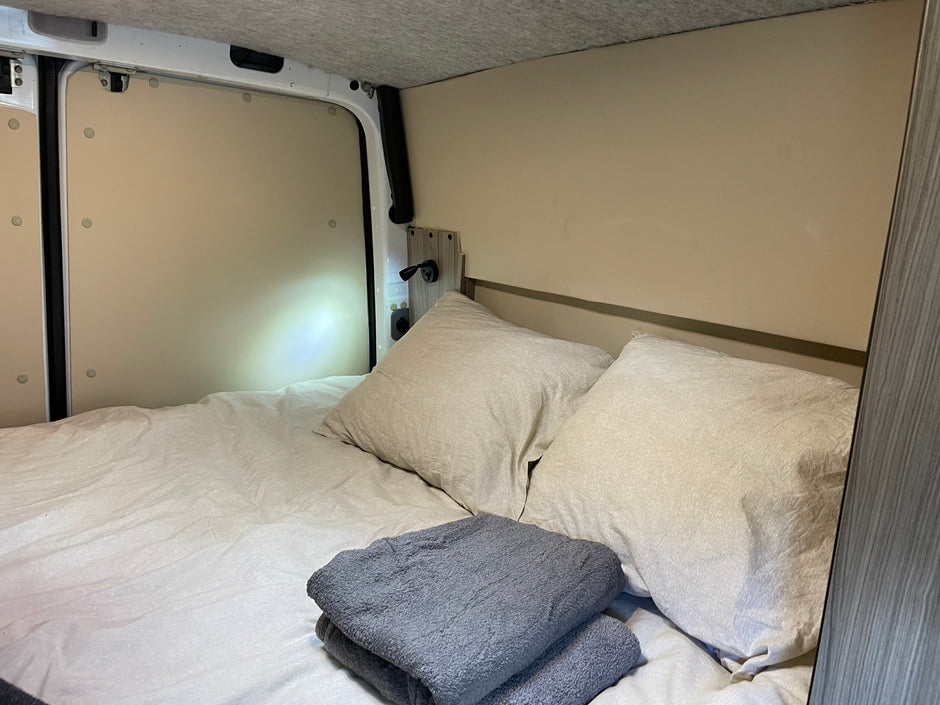 A comfortable two person bed with an 190 cm x 140 cm x 18 cm thick matras that fits even tall people. On each side of the bed there is indvidual LED lighting and USD connections to charge phones.

Musquito nets on the backdoors with magnets closure make it possible to open the backdoors and enjoy the stars and fresh air in warm summer nights.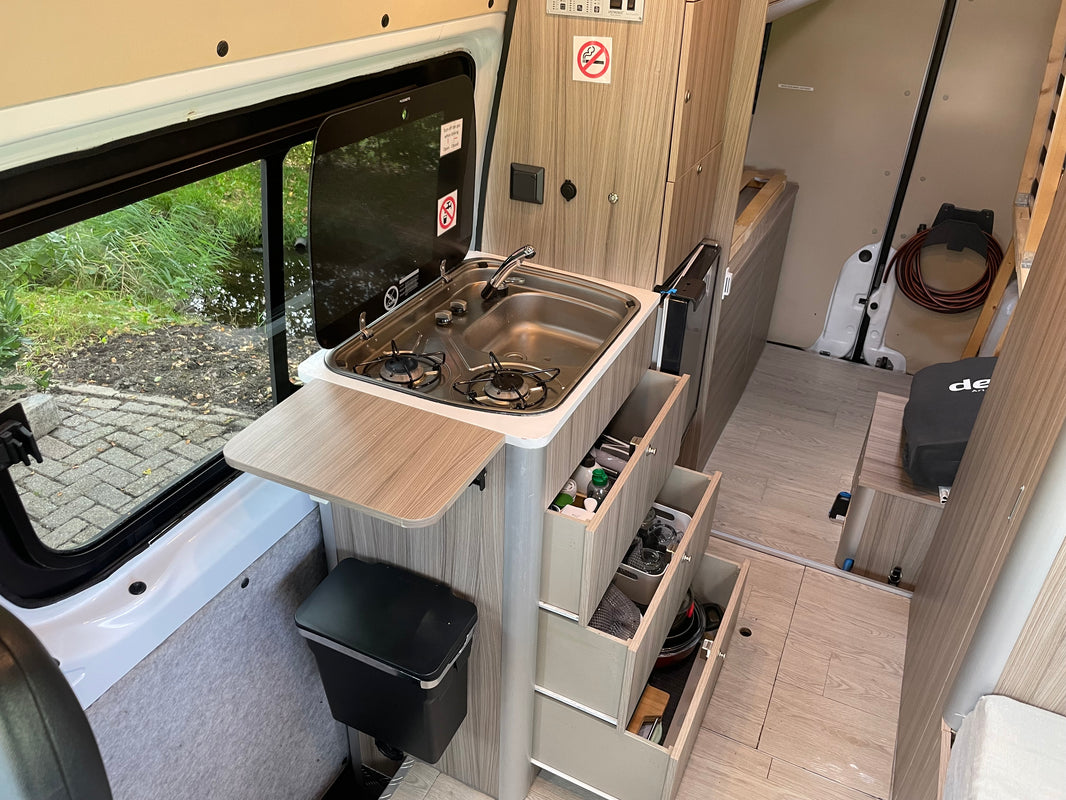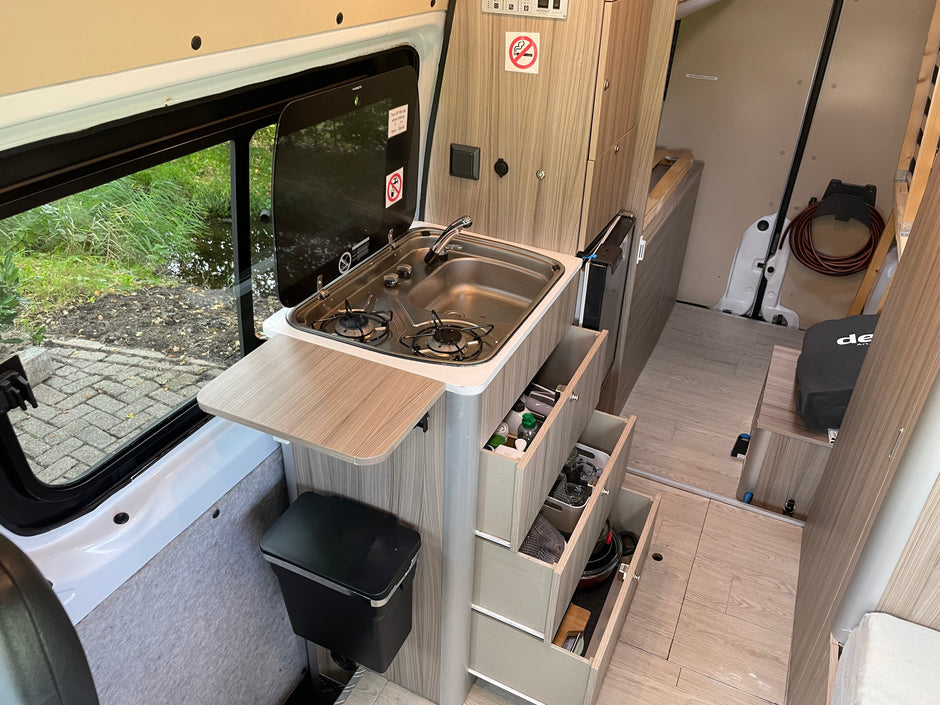 The fully equiped kitchen with expandable worktop comes with a 2-burner LPG or diesel fueled hob-sink combination with glass cover. The warm- and cold fresh water tap is electrically operated.
A compressor fridge with freezer compartment uses 12 Volt. The kitchen has deep drawers and several storage cabinets with safety locks.